Choose from a complete range of top Metrofibre Fibre Deals and Packages
Metro Fibre Deals in 2023
Looking for great Octotel Fibre Deals in 2023? Octotel is Cape Town's largest Open Access Network, dedicated to providing seamless fibre connectivity to over 250,000 homes and businesses in the region. Speeds range from 25 Mpbs download to lightning-fast 1000 Mpbs making this a great provider for all types of users, from individuals to families to large businesses. Octotel specialises in both Fibre To The Home (FTTH) and Business (FTTB) services, with a range of affordable and reliable options to choose from.
About Metrofibre Fibre
MetroFibre Networx, established in 2010, is a leading South African carrier-class Ethernet (CE 3.0) infrastructure company that offers highly managed fibre optic broadband connectivity solutions. With our head office based in Gauteng and a national presence, the company prides itself on being an open access fibre network and broadband fibre provider that connects businesses, individuals, Internet Service Providers (ISPs), and residential properties to a world of cutting-edge services.
Their comprehensive range of services includes Dedicated Internet Access, High-Speed Broadband Network Connectivity, Voice over IP, IP transit, Layer 2 services, and Data Centre Connectivity. These solutions enable their customers to seamlessly integrate the right connectivity options for their business at an affordable cost. In addition to our business offerings, their residential consumers can enjoy Internet connectivity, VoIP, MetroFone App, MetroMesh Wi-Fi extender, and Metro-I solution for estates and complexes.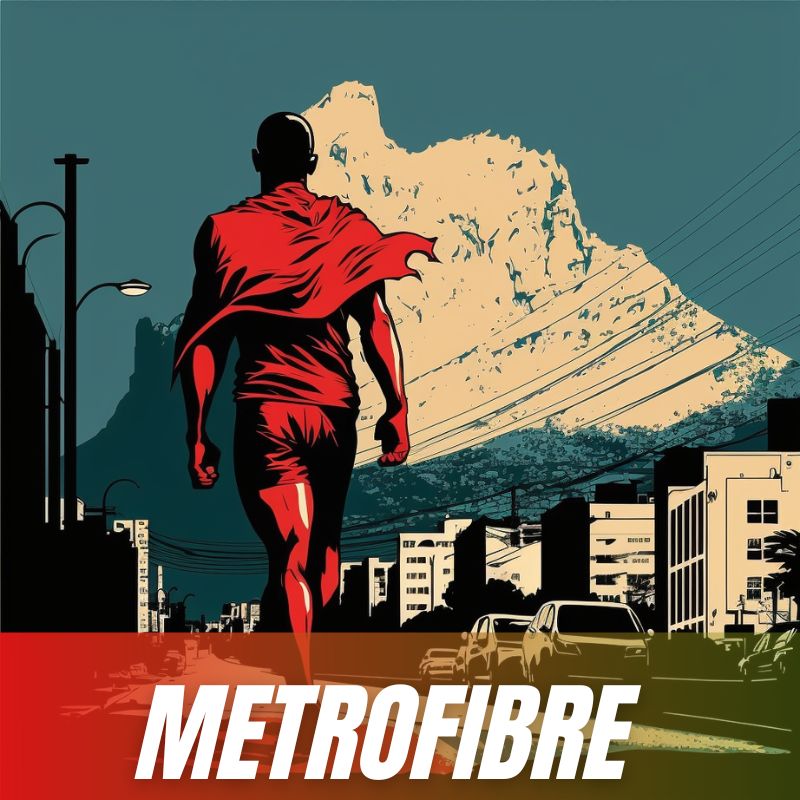 As a South African owned and managed company, MetroFibre Networx is backed by strong shareholders and board members such as Sanlam Private Equity (SPE), African Rainbow Capital (ARC), STOA Infra & Energy, management, and other minority shareholders. In 2020, they further expanded our network and empowerment capabilities by welcoming African Infrastructure Investment Managers (AIIM) and SAHIF to our team.
As a MEF Forum member and a member of Digital Council Africa, MetroFibre Networx operates South Africa's first globally compliant Carrier Ethernet 3.0 (CE 3.0) open access fibre network. We are licensed by the Independent Communications Authority of South Africa (ICASA) to provide electronic communications services and electronic communications network services.
Metrofibre take pride in our Level 1 BBBEE contributor status, allowing our customers to claim procurement at 135% of their spend through the company. MetroFibre Networx is trusted partner for cutting-edge, cost-effective fibre optic broadband connectivity solutions in South Africa.
Metrofibre Speed Upgrades
MetroFibre Networx has recently announced a significant overhaul of its line speeds on FTTH fibre packages, aiming to make high-quality fibre internet access more accessible to all South Africans. This major upgrade offers unparalleled value to fibre consumers, boosting connectivity not only in terms of line speeds but also in supporting the growing number of devices connected to home networks simultaneously.
Existing MetroFibre FTTH customers with 50 Mbps and 100 Mbps packages will receive a massive '5x Up' speed boost at no additional cost, alongside substantial price reductions for those on 500 Mbps and 1 Gig packages. Existing "loyal customers" will be the first to experience these upgrades. ISP and Reseller customers on MetroFibre's open-access network will also benefit from upgrades and price reductions on numerous packages.
MetroFibre's commitment to expanding access to high-speed connectivity extends to emerging markets, with plans to roll out its time-based, pay-as-you-go MetroConnect 20 Mbps product offering nationally in traditionally underserved areas.
The CEO of MetroFibre Networx, Jan-Jan Bezuidenhout, highlights the importance of quality fibre connectivity in daily life, emphasizing its role in remote work, online meetings, security, cloud computing, education, entertainment, and more. As fibre offers the best value for money and quality, it serves as the ultimate solution to costly mobile data, providing speeds unattainable by LTE/5G.
Jan-Jan also emphasizes the necessity of affordable, high-quality fibre connectivity in adapting to the changing landscape of work, learning, and entertainment as South Africans embrace the Fourth Industrial Revolution. By offering real fibre speeds and value, MetroFibre is driving the adoption of robust, fast line speeds backed by excellent service and support.
Since its launch in 2010, MetroFibre has become one of the top three fibre network operators in South Africa, with its open-access network currently passing over 440,000 homes across five provinces. The company aims to expand its network to reach an additional 500,000 residential homes by 2025, further solidifying its commitment to a tech-enabled future for all South Africans.
Not Getting the Speed You Want?
Check out these great fibre deals to boost the speed of your internet connection.
Get The Speeds You Want at the Price You Want
Get Fast Fibre Internet